Posted by
Kathy Lyons, aka Jade Lee
in
Jade Lee
, tags:
chicago spring fling
,
editor pitches
,
Jade Lee
,
kathy lyons
,
romantic times convention
,
under his spell
,
writing conferences
  I love conferencing. I'm the rare person who is both a writer and an EXTROVERT! And
yes, I'm the kind of extrovert you put in capitol letters. I'm just that loud and (hopefully) that fun. Right now, I'm in Chicago for their Spring Fling conference.  Then starting Monday morning, I'm going to be in Ohio for the Romantic Times Convention.  I love meeting people-fans, booksellers, random people in elevators-they're all just part of my world wide playground. But that's me.
What if you're one of the more typical SHY writers? It's hard to make the NY connection if you (a) can't afford a convention, (b) haven't the time for a convention, and/or ( c) end up staring at your shoes in anxiety. Don't hear me criticizing you. Some very big NY Times bestsellers still struggle with being shy. They'd much prefer to hang out at home and write.
Well, Harlequin Historical has started a program just for you! Here's the link: Editor Pitch  It's for virtual pitches. Yes, you too can connect with an editor without showering or changing out of your jammies! There are specific rules which should be adhered to closely. But prospective HH authors submit a two-paragraph blurb and then must be available to pitch in an on-line chat at the specified time. This is especially cool because Harlequin Historicals is based in England. So any US, Australian, or wherever else writers can connect without an overseas flight.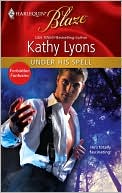 Okay, it's now time for you to dish. Tell me your embarrassment woes or lack thereof. I'll confess that I have indeed been THAT author that followed an editor into the bathroom. But in my defense, we were talking from a workshop and just kept going into the bathroom. Still, looking back, it was really tacky of me.
One lucky commenter will win an Are you a Tigress tee shirt?!
And don't forget! My Blaze UNDER HIS SPELL is in stores now!